Accreditation as per ISO 17065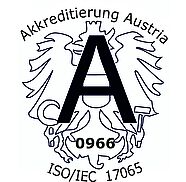 Quality - transparency - continuous improvement
Accredited conformity assessment body as per EN ISO/IEC 17065
Building materials with transparency - that is what we demand from our EPD customers.
The value of an EPD is the degree of confidence in the data results conveyed by impartial and competent third-party verification to guarantee compliance with specified requirements.
And that is why we regularly appear for audits ourselves!
Bau EPD GmbH is accredited by the Federal Ministry of Labour and Economic Affairs via Accreditation Austria according to EN ISO/IEC 17065.
The scope of accreditation includes processes according to ISO 14020, ISO 14025, ISO 21930 as well as EN 15804. EPDs are only issued after passing through high internal quality assurance processes.
Outlook:
If in the future, within the framework of the revision of the Construction Products Regulation or other EU regulations, CE marking should depend on environmental indicators, Bau EPD GmbH will apply for notification. Above all, customers who already have EPDs will then only need to take small steps to be at the forefront.
Together, well prepared through internal and external audits, continuous implementation of improvement measures and the best possible international networking - this is how we are getting closer and closer to harmonisation in the EPD sector.